Courtesy of John Curry and the Stittsville News: http://www.ottawacommunitynews.com/news-story/6840953-richmond-200th-anniversary-booth-at-richmond-fair/
Richmond 200th anniversary booth at Richmond Fair
Anniversary merchandise will be available for purchase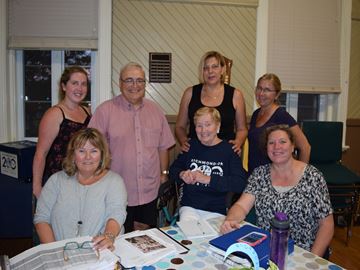 John Curry
Members of the Richmond 200th anniversary organizing committee chaired by Cydney Green.
Stittsville News
This upcoming Richmond Fair promises to be a good place to learn about the plans for celebrating Richmond's 200th anniversary in 2018.
The Richmond 200th anniversary organizing committee will have a booth at the Fair where there will be sign-up sheets for those wishing to help organize events and also lots of 200th anniversary merchandise available for purchase, all of which would make unique gifts for anniversaries, birthdays and other special occasions. Revenue generated by the sale of this merchandise will go towards helping fund the 2018 celebrations.
And there will be one very special item that will be available and that is a CD of a new Richmond 200th anniversary song written and performed by Richmond's own Doug Champagne.
You will even be able to hear this song performed by Doug himself on the Richmond 200th anniversary float that will be in the annual Richmond Fair parade on Saturday, Sept. 17.
Doug is donating not only his talent but also all revenue generated from the sale of the CD to the 200th anniversary fundraising efforts.
Indeed, fundraising is going to be a major focus for the 200th anniversary committee in the year 2017 leading up to the anniversary year of 2018.
As Cydney Green, chair of the 200th anniversary organizing committee puts it, every event organized by the committee in the coming months and through 2017 will be geared to fundraising so that 2018 can be a time of socializing and fun with no worries about fundraising.
In 2017, the organizing committee will be hosting "A Taste of Richmond" fundraiser at the Jabulani Vineyard and Winery near Richmond where all of Richmond's restaurants and food outlets will be involved in offering examples and samples of their offerings.
The year 2017 will also see a fundraising barn dance held.  Such a barn dance had been planned for earlier this summer but it did not go ahead due to a concern about preparations. But things will be ironed out and all ready to go, probably in June 2017 when the "Best Dammed Barn Dance in 199 Years" will be held.
There are also plans for events such as a fundraising golf tournament to be held in 2017.
Capping off 2017 and beginning 2018 will be a gala New Year's Eve Party that will mark the end of 2017 which is Canada's 150th anniversary year and the beginning of 2018 which is Richmond's 200th anniversary year.
This will then lead into other special events leading up to a gala weekend of celebration in June.
In early January, there will be a curling bonspiel at the Richmond Curling Club which will be a community events hopefully involving teams from various schools, churches, organizations and businesses in the community.
February 2018 will see an event celebrating the 60th anniversary of the founding of Silver Stick Hockey in Richmond.
March 2018 will feature a talent night of local talent while April 2018 will be when a red carpet gala will be held, premiering a movie about the history of Richmond. April that year will also see a 200th anniversary focus for the annual Upper Jock River Canoe and Kayak Race and there will also be a "cleaning our community" campaign to get the village spic and span for the celebrations to come.
May 2018 may see a second annual "A Taste of Richmond" event while June will possibly see a variety of events leading up to the gala celebration weekend that month.
Events to take place in the latter part of 2018 could include a scavenger hunt, sports tournaments or other events. All ideas are being welcomed by the 200th anniversary organizing committee at this point.
Stittsville News Story on Richmond's 200th Anniversary